ECOSlide PVC-U Vertical Sliders
ECOSlide PVC-U vertical sliding sash windows function primarily like a wooden box sash window with both the top and bottom sashes sliding up and down to suit your ventilation requirements
Convenient and simple to operate, the two sliding sashes within an outer frame work independently of each other on a balanced load mechanism, designed to hold the sash at any height.
Windows are individually manufactured to meet exact customer requirements in unit sizes from a minimum 370mm in width and 740mm in height, up to a maximum of 1600mm in width and 3000mm in height
Shaped windows are also available in Swept Head, Gothic Arch and True Arch architectural styles. These impressive windows employ specially curved PVC-U profiles and are supplied with a fixed top sash and sliding bottom sash to provide ventilation.
Subject to dimensional design limitations, Swept Head windows can sometimes be manufactured with a shallow-sliding top sash in addition to a sliding bottom sash.
Tilt & Easy Clean Function
ECOSlide PVC-U sash windows are incredibly low maintenance, requiring only a quick wipe down with a damp cloth to keep them looking as good as new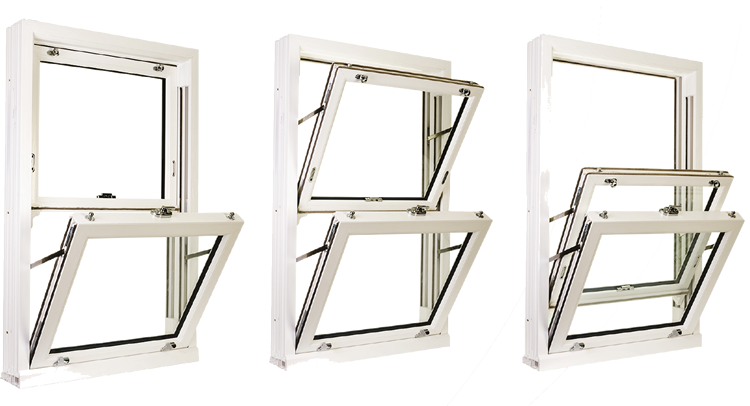 Sash Window Styles
We offer a range of sash window styles to match your old windows as closely as possible and maintain the signature "design statement" for your home. We can replace bay-style windows including splay and box bay windows. These are a common feature in older properties and when combined with a sliding sash window the installed appearance is very impressive. We can also replace arched and swept head windows. These shaped styles are incredibly eye-catching. ECOSlide PVC-U sash windows are bespoke-manufactured to your exact requirements, to maintain the appealing charm of your home


Colour and Foil Finishes
Timber box sash windows were always painted and you can replicate this look with solid White and Cream colour options. If you want a more natural wood effect, our Crystal White, Cream, Golden Oak and Irish Oak foils give a realistic woodgrain appearance that mimics the grained texture and appearance of an original timber window.
We also offer colour outside / White inside options in Chartwell Green, Anthracite Grey, Rosewood, Black Brown, Cream, Golden Oak and Irish Oak. With this option you can have the external colour you like, whilst maintaining a White interior to better suit your home's decoration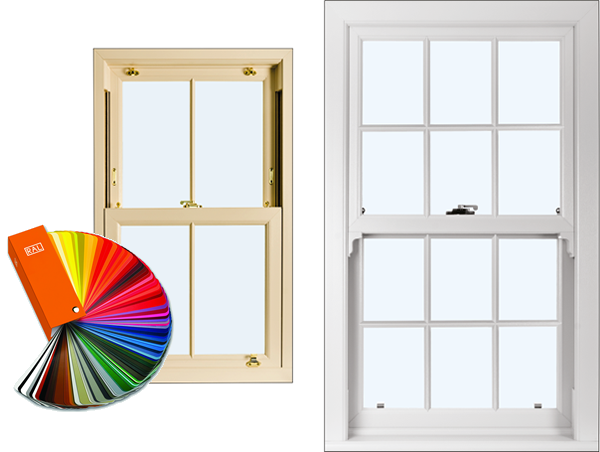 Custom Colours
Our onsite paint shop enables your ECOSlide PVC-U sash windows to be spray painted to match virtually any RAL code or colour.
You can personalise your vertical sash windows and colour co-ordinate them to match your property or just to suit your own personal taste.
Our optional spray painted finish is applied to the highest standards and will provide a unique and colourful addition to your home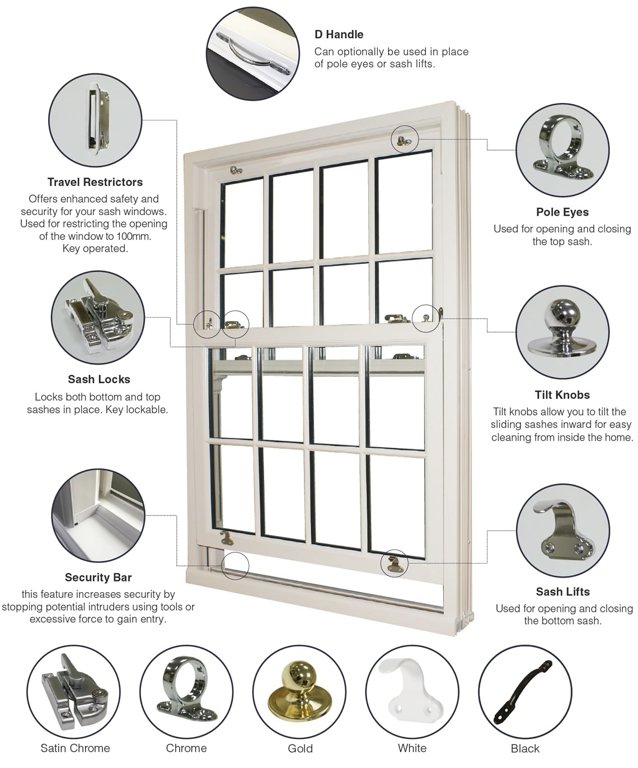 Hardware and Security
Add the finishing touches to your new windows with traditionally-styled vertical slider hardware. Pole eyes, tilt knobs, sash lifts, sash locks and travel restrictors are fitted as standard, but we can also offer D handles if needed. All hardware is available in Chrome, Gold, White, Black or Satin Chrome to complement our range of sash window frame colours.
Other additional options are available such as Georgian or Astragal glazing bars and trickle vents, to give your new windows a truly authentic and classical vertical slider look.
A wide choice of decorative window hardware options
In addition to this, ECOSlide PVC-U sash windows are designed to be extremely safe and secure. High performance locking systems keep your home safe from potential intruders to give you extra peace of mind.
For added safety we also offer the option of a "Fire Egress" window design to provide emergency escape.
Toughened Insulated Glass
For enhanced safety, security and peace of mind, ECOSlide vertical sliding sash windows feature insulated glass units with toughened glass in both sashes, top and bottom.

High performance double glazed insulated glass units are 24mm in thickness (outer pane 4mm, airgap 16mm, inner pane 4mm) for optimum thermal efficiency.
Patterned obscured glass is an ideal choice in bathrooms, toilets and other downstairs or upstairs room locations to provide some welcome privacy when your house is viewed from the outside. We offer a choice of effective privacy glass styles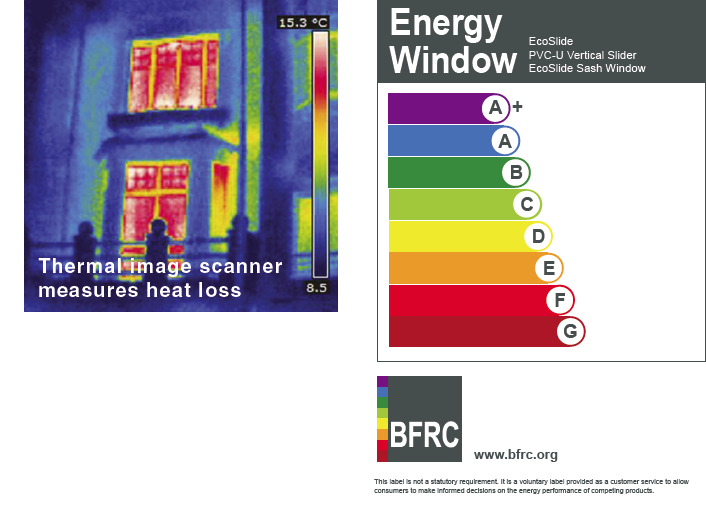 Energy Efficiency and Ratings
Enjoy a warmer, more comfortable home with energy efficient sash windows
Windows are given energy ratings based on their ability to insulate your home. These are displayed on a colour scale ranging from 'A+' (Purple) to 'G' (Burgundy), with 'G' being the least energy efficient and 'A' the most energy efficient.
Putting the style back into your home with ECOSlide will make your home a warmer and more comfortable place to live, saving on your energy bills year on year.
ECOSlide sash windows are 'A' rated as standard.
Impressive weather performance
Independently tested at a UKAS test house our ECOSlide window has been evaluated in accordance with BS.6375 Part 1 "Performance of Windows: Classification for Weathertightness" against the test assessment methods laid down in BS.5368 (Air Permeability, Watertightness and Wind Resistance) and has achieved outstanding results. The figures achieved indicate that the tested Weather Performance Rating for our ECOSlide vertical sliding sash window will meet "Severe" weather conditions.
As Approved EcoSlide Vertical Sliding Box Sash Window Suppliers and Installers we offer supply and installation services throughout South Wales including Abergavenny, Newport, Cardiff, Barry, Monmouth, Chepstow and Brecon areas and beyond

EcoSlide are a pre-priced item under our "Just The Ticket" Instant Pricing and are excluded from any vouchers or further discounts

0